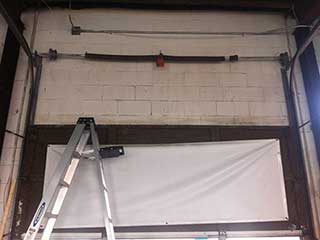 Your overhead door system relies on a pair of heavy-duty torsion springs to lift it. They have to be exceptionally strong, as the average door can weigh upwards of three hundred pounds. Over time, these springs will begin to weaken as they wear out, and they will eventually break altogether. If they're showing signs of wear and tear, or if they've already broken, our technicians can safely replace them for you as quickly as possible.
What Is The Average Lifespan
How long these components last depends on how well they're made, and what type they belong to. Cheap extension springs can require replacement in as little as three years. On the other hand, a top-quality torsion spring can last for over ten years, provided that it receives regular maintenance. You'll need to watch carefully for signs that these components are beginning to weaken; if the door wobbles as it moves, struggles to support its weight, or starts squeaking nosily during operation, then they may be about to break.
Professional Spring Replacement
Never try to replace torsion or extension springs without the help of our technicians. These units are under a huge amount of tension on a daily basis, and they can easily cause injuriesif they're not properly handled. If your springs are no longer functioning to the best of their ability, our technicians will safely disconnect them and install new units in their place. We will then carefully balance their tension and make sure the door is able to open and close smoothly again.
The Right Maintenance Service
The leading cause of broken springs is simple wear and tear; hardly surprising when a busy household might use their door more than a thousand times a year. Proper maintenance goes a long way towards minimizing the effects of these accumulating damages, and our technicians will help you by applying appropriate lubrication to the springs, and check to make sure their coils haven't become deformed.
The Experts You Need
If your springs are beginning to wear out, or you need an emergency replacement, our team is ready to help. Contact Garage Door Repair Canyon Lake today and let our technicians take care of these important components for you.
Our team can also take care of:
Emergency Garage Door Services
Genie & Liftmaster Opener Repairs
Oil Tempered Torsion Springs
Liftmaster Garage Door Maintenance